The Victor 6th grade did an Arts and Sciences tour in Missoula on Monday, December 6th with Mrs. Ogden. We pulled out all the stops!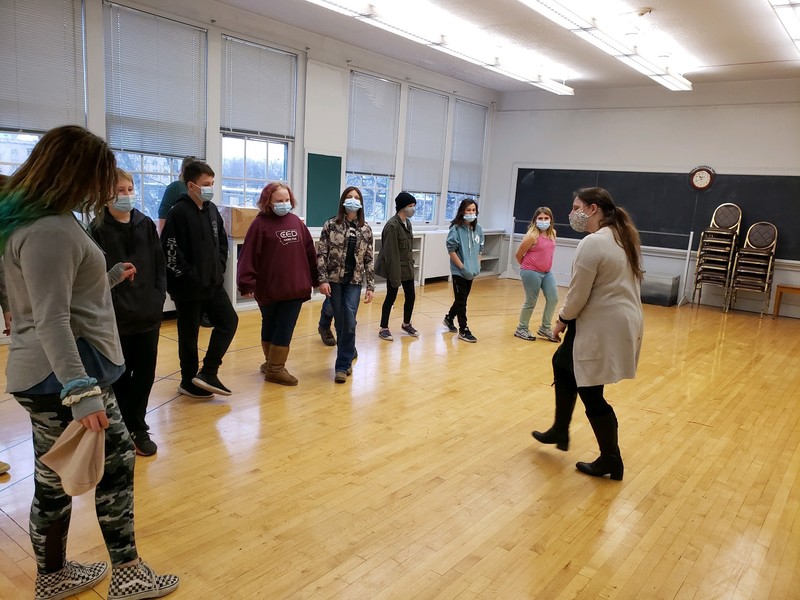 Our first stop was the world-famous Missoula Children's Theatre where students took a backstage tour. They got to see Snoopy's doghouse, Charlie Brown's mailbox, and Shroeder's piano while on stage and we had an interesting discussion about the "ghost light" keeping the theatre spirits happy and safe when there isn't a show happening. We took a short tour of the costume, prop and set workshops, as well as a basement tour densely loaded with all the props and costumes for their touring shows as well as their Community Theatre productions.
Students went into a dance studio to learn how a sample audition might go. Our students showed some innovative ways to talk, dance, and try to pantomime their way out of a set of invisible obstacles. Best of all, the students took a bow on stage at the end of our tour. Thank you to Marta Knodle of MCT for being a wonderful tour guide.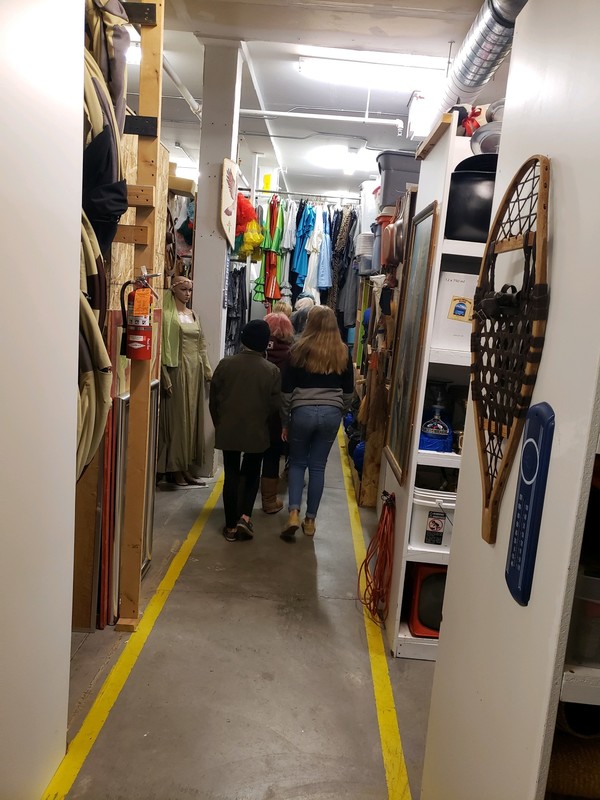 We hopped next door to explore SpectrUM Science Museum's watershed room which is housed at the Missoula Public Library. There were hands-on water cycle features and a miniature replica of Missoula's watershed.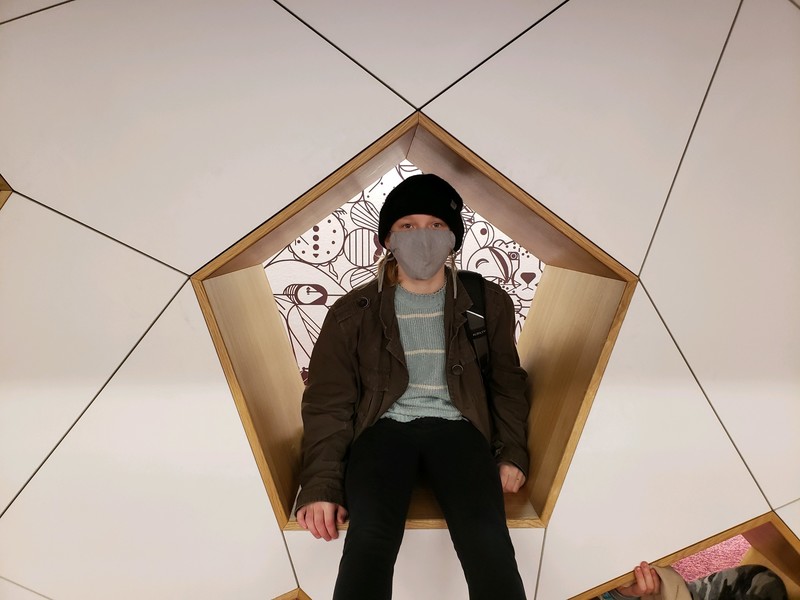 Students had a snowy lunch at Kiwanis Park and an even snowier walk to Missoula Art Museum where we met with Cameron Decker, the Education Outreach Coordinator. Cameron is a Salish descendant and he was proud to show the students around Neal Ambrose Smith's amazing neon and mixed media exhibit. The students experienced Smith's work through 3-D glasses, and also under black light. The contemporary Native American artist will visit with our students via a LIVE Stream program on Monday, December 13, where Smith will answer questions and lead the students in a drawing lesson. The students appreciated how Cameron taught them to say "thank you" in Salish. (It sounds like "lem-lunch").
We bussed to the University of Montana to meet with Kallie Moore, who is the Collections Manager at the UM Paleontology Department. Kallie shared her deep knowledge of what we can learn by looking at the giant T-Rex skull and walked us through a theory about why we don't have a world full of dinosaurs anymore. Can you believe it was a giant asteroid that banged into our earth? She makes a very good case for that theory! Kallie Moore is a co-host with Hank Green and Blake de Pastino on PBS Eons. Here's an exciting introduction to their show!
https://www.pbs.org/video/a-quick-introduction-to-eons-k3w7er/
Finally, we met Loren who volunteers to put on student shows in the Payne Family Native American Studies building which features a planetarium called the Star Gazing Room. Students sat in a round, bubble-shaped room and experienced a projected journey through space. We could move forward and backward in time and see the changing seasonal position of the sun and had close-up views of star clusters, black holes, and planets, and even spent time "sitting on the sun". Students especially enjoyed seeing the sun's journey through familiar constellations. When Loren superimposed artists' renderings of constellations on top of star patterns the students were especially excited to see their own personal astrological signs found in the zodiac.
We had a safe, but snowy ride home, thanks to Charlene, our able bus driver! This was a super field trip! Thanks also to our adult helpers, Eric Wilson and Dulcie Belanger!